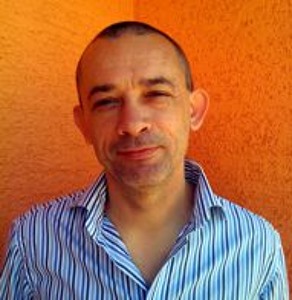 Denis Curman is a famous Croatian Italo/Eurodance/Eurobeat music composer and producer. He is the producer behind the 90s eurodance acts "Nina" , "Roxy" & "Hergegboys" and the latest acts "Impressione", "Enrico" and "Orange Ltd." who were huge succeses in Japan and Europe few years ago.
Nick: Hello, Denis, and thank you so much for accepting this interview.
Please introduce yourself in a few words.
Denis:
Hello Nick, it is always nice to talk about the 90' and eurodance ! As you know, I am composer in the first place and then the producer, this probably affect my work cause' I do have different approach and the way of doing the things related.
Nick: Could you please tell me how you've started your career as an eurodance producer?
Denis:
Becoming the producer actually never was my idea, but due to a lack of available producers in Croatia, I was simply forced to learn and work on my own tracks by my self, except for the tracks I did with my italian producers like Laurent Gelmetti (Time Records), Bratt Sinclaire, Dave Rodergs and Alberto Contini (A.Beat.C Records).
In the same period I worked with the Domenico Livrano & Rene Baumann all gathered around David Brandes, so as I've worked on my tracks it was required to finish them and not just shipp them as a demo.
Definitely huge experience, money can't buy. Fred Ventura and Marcel Van der Belt have always been a great friends and supporters, and their great experience, knowledge and support helped me a lot.
Nick: Which was the base idea behind an eurodance tune? How it all started? Was it build around a chorus or an instrumental riff?
Denis:
Concerning the basic idea, it doesn't matter if we talk about the Eurodance or Rock songs !
There are only good and bad songs, it's always been and will remain the same fact. It is all about the music and the basic idea, if the song is really good it should work well in all possible arragements and production styles. My personal style is always the same, sit down by the piano and start playing and work on something, first of all you should know what are you after of course, if you work on Eurobeat/Hi-Nrg song you should create melodies in that particular style and tempo > very smooth, but yet agressive type of melody, half the tempo of the track.
If you do work on Eurodance track, it require once again very catchy Chorus with great Riff and Clubby atmo,it is not so complex as Hi-Nrg songs, but on the other hand require more attention on the production side.
The foundation of every Hit Record is Melody > and this shall remain the same for next million years !
Nick: Which was the main equipment used in the 90s for making eurodance music? Please name some important instruments if possible.
Denis:
Equipment used really vary form styles of the production we've been working on ! On HiNrg Tracks Emu modules, Roland JD-800/990,Roland Juno,Linn Drum !
On Eurodance tracks so many samples on AKAI S1100 (Zero G CD ), Roland JV 1020 & JV 2080, Nord Lead,Korg M1,Novation SuperNova.
Nick: Could you please tell me how much was compression used back in the 90s? It seems to be very used in today's music.
Denis:
Compression ! Well it should be used as dynamic controller in the first place > the point is to control dynamic of the recording and use it and not to abuse it as the creative tool in the mixing process.
Loudness war for sure it will kill the creative side of the business, too much compression means to much of squashing the sound (dynamic range), it is very easy to make something rather small out of something big,but it is impossible to make something big out of the something small.
You can't hear any more the beauty of the available dynamic range as you could have in the 80' or 90', just listen up to those recording and you should really notice the difference. Today everyone work in the 24Bit resolution, giving you 144dB in your recording ( 6dB per 1 Bit ),yet it is impossible to hear the full dynamic range due to ultra heavy compression and over processing. Just listen up Dire Straits or Queen recording made in the days, you should get the clear picture what we are missing these days.
Hard Disk recording on the other hand enables everyone to work with the huge amount of dynamic tools not available previously, but it should be used carefully and for the tasks that is made for.
Side Chain is a great way of controlling the mix, particularly pointing out on the foundation of the mix "Low End", so be creative and force Mono signal for Kick,Bass and Snare, once you got these channels sitting right in your mix, you are almost done. Input Gain Staging is the most important thing you should think about beside mono and stereo source, Work digital but think analogue, watch out on your meters on each channel, input signal shouldn't be above -18dB in any scenario, you need enough headroom hitting your outboard and entire mix, bear on mind that each dynamic module shall add additional dB on your incoming signal, so watch your Gain Reduction meter and act accordingly, use dynamic tools to shape and control dynamics, not to pump up your signal level, never use anything on your master fader > it has to sound right in the mix with no insert on your master bus.
Nick: Many people ask about the famous 90s eurodance kick. Could you please explain how this was created?
Denis:
Kick ! I've used only one specific sample, as we've used only one sample for Open Hi Hat, as you should know by now there are thousands of samples and libraries available, but as always only few of them are used and abused.
Nick: Please offer some tips for the people who still want to make eurodance music, which are the main things they should focus on?
Denis:
Advice for Eurodance / Italo dance ! As my Co-Producer Laurent Gelmetti always say to me, use your brain and your ears, listen, work and be creative. It is not so easy as it might appear, for a start you should work for some particular Vocalist, you should be familiar with their capabilities, listen to thier previous works, the way they sing, taking the air, vocal range, the colour of their voice, what you can achieve with them and how to manipulate with their voice to get the exact form of the song you are after and aiming for.
Listen to your favorite artists, play along with them, pay ultra close attention on melody and the way they deliver that melody to you, once you got familiar with the problem start working on your next hit record. Imagine your favorite artists, relax and start playing your melody to fit your favorite Artists vocal style. Be aware of the fact, if the song sounds like a crap, probably it is and there is no Vocalist who can make it better, they can make it sound better but crap remain the crap, you need great melody line and don't be fooled by the sound or performance, if the song is great it shall be great by the piano or a guitar, on the other hand if the song by itself is bad, there is no producer, sound engineer or Vocalist who can fix it and make you a one hit wonder.
Nick: The 90s eurodance is still loved today despite the years. Do you think this genre can return on the commercial scene one day?
Denis:
Well, the Eurodance is alive more then ever if you ask me, maybe not in the form we've been used to, but if you really pay attention these days, you will hear Eurodance influence everywhere, Max Martin in USA is pure Eurodance using more acoustic instruments, but it is 100 % Eurodance,
Vocal Trance and Progressive House is based on Eurodance, you can hear the same type of melodies,riffs and arragements you could heard in the 90'.
What we are missing these days comparing with Eurodance is enthusiasm and creativity, my god we were really creative those days, supporting each other, fighting for each copy sold. Today due to the Internet and Illegal File sharing, informations are shared within second around the globe, and despite that fact it happened that entire industry is destroyed instead of getting better and better. Those were the days with no cell phones and no internet, fans waiting for new releases and supporting their artists. This is very expensive business in the first place, very hard to recoup the costs, requires real hard work, and without proper sell and support from the fans you got destroyed industry. Eurodance is about love and happiness, today everyone talk about struggling how to survive, it seems that people don't care that much for music or any sort of cultural events.
Bear on mind that what makes Eurodance so special were creative people and their efforts, it is not enough to buy and download the latest softwares, you need to push the boundaries and your creative side and work hard to get those results.
It was a very particular point of time I am afraid it will not happen again.
However the point is, listen to the music not the sound ! ! !
Nick: Which are your current and future music projects?
Denis:
Concerning my latest releases, there are Impressione, Enrico, Orange Ltd.,nR Element with the Akyr Music, Dina Rao is a brand new born ready star from San Francisco under the umbrella of Walz Music and her executive producer Aaron Walz, working on her album and this summer smash EuroHouse Single Every Little Piece Of Me coming out soon.
Hard work pays off Nick, hope this will help a bit in the future.
Nick: Thank you very much, Denis, for taking your time to give this interview, I wish you all the best!